Articles & Videos by Topic
Other Resources
Reginald Brewington, Jr., CPA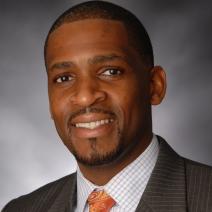 Reginald Brewington, Jr. is an audit manager for Tate & Tryon and has more than 11 years of experience working with nonprofit organizations. Prior to joining Tate & Tryon, Mr. Brewington worked for Zinner & Co. LLP, a Cleveland-based public accounting and consulting firm where he worked with labor unions, community development corporations, member and professional associations, art organizations, religious organizations, and voluntary health and welfare organizations with annual revenues ranging from $1 million to over $100 million.
Professional and Industry Experience
Mr. Brewington has extensive experience working with nonprofit organizations and real estate partnerships; as well as, large and small closely-held corporations that operate in the construction, manufacturing, distribution, and service industries. His experience also includes, but is not limited to, evaluating and improving internal processes and procedures, testing internal controls and compliance requirements associated with organizations that receive HUD financing, along with organizations that are required to comply with Yellow Book and OMB A-133 requirements.
Reggie is responsible for engagement planning and supervision, financial statement preparation, recognizing and resolving any identified accounting and auditing issues, and serving as a technical resource for his clients. He is also highly knowledgeable about the changing rules, regulations and standards affecting the accounting and auditing industry.
Mr. Brewington has managed the audit engagements for nonprofit organizations such as:
Community Preservation and Development Corporation
Greater Cleveland Habitat for Humanity
Community United Head Start & Day Care, Inc.
American Red Cross
National Crime Prevention Council
Other Activities
Outside of work, Reggie also enjoys traveling, watching and playing sports, reading, going to movies, and spending time with family and friends.
Professional Associations
American Institute of Certified Public Accountants (AICPA)
Greater Washington Society of Certified Public Accountants (GWSCPA)
National Association of Black Accountants (NABA)
Education, Licenses & Certifications
B.S., Accounting, University of Maryland, College Park
B.S., Finance, University of Maryland, College Park
Certified Public Accountant licensed in the state of Maryland
2010 Graduate of the Leadership Academy