Articles & Videos by Topic
Other Resources
Ernie Paszkiewicz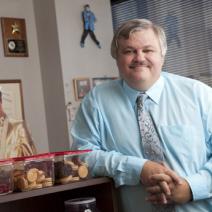 Gross Mendelsohn CPAs and Advisors
Ernie Paszkiewicz, CPA, is director of the firm's Nonprofit Group. He is also a member of Gross Mendelsohn's Manufacturing & Distribution Group. In addition to providing financial statement audit, tax and consulting services, Ernie conducts employee benefit plan audits for businesses and nonprofit organizations, including private schools.
Clients and coworkers know Ernie as someone who is happy to share his knowledge, time and passion for helping businesses become more successful. While CPAs have to maintain independence, Ernie finds being a trusted advisor for clients one of the most enjoyable aspects of being a CPA. Helping a small business become a larger, more successful organization is extremely fulfilling to Ernie, who gets a sense of satisfaction from helping clients solve problems.
Ernie's coworkers also enjoy Ernie's sharing spirit in the way of candy … he faithfully maintains a large stock of candy and other fun items in his office. Gross Mendelsohn's staff members know they can always find a sweet treat and a friendly smile in Ernie's office.
Ernie enjoys sharing his expertise with the business community, speaking for local organizations and writing for publications. Ernie presented "Budgeting and Financial Statement Basics for Nonprofits" for the Community Law Center and Maryland Association of Nonprofit Organizations. He wrote "Succession Planning Important for Nonprofit Organizations, Too" and "Nonprofits Need to Pick Their Financial Controls Carefully" for the Baltimore Business Journal, and "A Whole New World: Six Obstacles to Overcome Before Setting Up Shop Overseas" in SmartCEO. In addition, he spoke to members of the Maryland Commercial Lenders Association about audit, accounting and tax issues for businesses.
No stranger to community service, Ernie quietly gives his time to many organizations, including Towson University's accounting advisory board. He is also a past board member of the Community Law Center and is a past chairman of the Harford County Chamber of Commerce. Ernie is a former member of the board of directors of Archbishop Curley High School. He has provided pro bono accounting assistance to various nonprofit organizations over the years.
Ernie, who has 37 years of public accounting experience, was named Towson University's accounting department alumnus of the year in 1995.
Education
Bachelor of science degree in business administration with a concentration in accounting, Towson University (1979)
Just for fun
Ernie started riding Harley Davidson motorcycles for relaxation instead of playing golf like other accountants.
Ernie has no talent when it comes to singing or dancing, but he owns two replica Elvis jumpsuits and a replica of the "'68 Comeback Special" leather suit. In addition, he has an entire room of his house dedicated to his Elvis collection.
Ernie worked for Friendly's Ice Cream for four years in college. He liked it so much he almost went into Friendly's management training program instead of going into public accounting … and it paid more than public accounting in 1979.
Affiliations
American Institute of CPAs
BKR International Employee Benefit Plan Audit Quality Center
Governmental Audit Quality Center
Manufacturing CPAs
Maryland Association of CPAs
Maryland Nonprofits
Regional Manufacturing Institute
By This Author: