Nonprofit Accounting Basics
About E-Filing
Originally Posted: May 25, 2010
E-filing provides nonprofit organizations with easier preparation and quicker submission of their returns with the IRS. Organizations can prepare their returns using online applications, and then electronically submit the data of their returns to the IRS.

Since 2004, the IRS and 990 Online have supported e-filing for nonprofit organizations. The IRS supports e-filing for the following forms: Form 990, Form 990-EZ, Form 990-PF, Form 990-N (e-Postcard), Form 8868 (Request for Extension), Form 1120-POL, and Form 7004. The IRS expects to receive more than 90,000 e-filed Form 990, 990-EZ and 990-PF returns this year!

990 Online is a service provided by the National Center for Charitable Statistics (NCCS) at The Urban Institute. Available at https://efile.form990.org/, 990 Online supports e-filing of Form 990, Form 990-EZ, and Form 8868 (Request for Extension) with the IRS. This service can be used to prepare their organization's returns, and then organizations have the option of delivering them electronically or sending them by mail. This service also supports e-filing of state registrations with Hawaii, Michigan, and Pennsylvania.
Through another website, http://epostcard.form990.org, NCCS provides e-filing of Form 990-N (e-Postcard).
What are the benefits of e-filing?
Nonprofit organizations can benefit from e-filing. As part of the design of e-filing applications, the software checks for errors in the filing before the filing is submitted. According to the IRS, more than 25 percent of returns submitted by paper have errors. When a return is submitted to the IRS, acknowledgment of receipt and acceptance is sent to the organization in close to real-time. Nonprofit organizations will not need to wait longer than 24 hours before they receive notification that their return has been accepted. If errors are found after submission, there are explicit error codes sent with the return.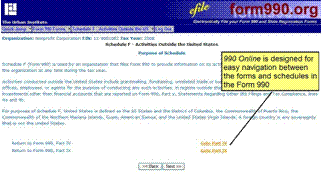 Regardless of whether you want to e-file or file a paper return, the 990 Online website provides a number of features to make preparation of an accurate, consistent and complete return easier. Features include:

Totals are calculated for you;
Work on your return can be shared by multiple people in your organization or with your CPA;
Basic organizational information is copied from last year's return to your current return.
Is e-filing required for some organizations?
Some large tax-exempt organizations may be required to e-file. Generally, if tax-exempt organizations have total assets greater than $10 million, or file 250 returns (including income, excise, employment tax and informational returns), they are required to e-file. In practical terms, this means that most organizations with more than 245 employees or independent contractors (who receive "1099s") are required to e-file. If the organization is a private foundation or non-exempt charitable trust, and it files more than 250 returns with the IRS, it is required to e-file regardless of total assets. Besides the largest organizations, most of the smallest – those falling below the 990-EZ threshold—have been required to file an "e-Postcard" (990-N) since 2008.
Are there returns that the IRS will not accept electronically?
The IRS does not support e-filing for certain types of returns. These returns include short-year/short period returns, name change returns, and Form 8868, Part II.
The IRS also only supports e-filing of the current tax year, and two prior years returns. Currently, the IRS supports the 2008, 2007, and 2006 tax year. Previous years returns can be prepared on 990 Online, however, they must be mailed to the IRS.