Nonprofit Accounting Basics
Lobbying by Public Charities: The 501(h) Safe Harbor
Originally Posted: February 10, 2014
The issue of lobbying by 501(c)(3) public charitable organizations has long been a confusing area. As a consequence, many charities are under the impression they cannot engage in any lobbying at all. This article should dispel that notion and give some guidelines as to how much lobbying can be done and how the organization may safely elect to do so.
Keep in mind this article pertains to public charities only--501(c)(3) private foundations are prohibited from all lobbying activity. There are completely different lobbying rules and definitions for 50l(c)(4), 50l(c)(5), and 501(c)(6) organizations which are not addressed in this article. Also, be advised that an organization which lobbies the federal government may also have to file reports under the Lobbying Disclosure Act of 1995.
The General Rule for Public Charities
In general, to remain a tax-exempt public charity under 501(c)(3), lobbying cannot be a "substantial part" of an organization's activities. Determining whether a specific level of lobbying is a substantial part of its total activities is a factual issue for which no simple rule exists. In various cases on this issue, the percentage of lobbying activity was held to be only one factor in determining substantiality. Therefore, with the degree of difficulty involved in determining when lobbying activity is substantial, it is somewhat hazardous for a public charity to engage in any level of lobbying activity unless it makes an election under IRC Code Sec. 501 (h).
The 501(h) Election
This election was included in the Tax Reform Act of 1976 in order to establish more precise standards for determining whether a charity's lobbying is substantial. An electing organization may expend a specified amount (a "safe harbor" amount) to influence legislation without violating the "substantial part" test discussed above. If lobbying costs exceed the specified levels, the organization is subject to a 25% excise tax on the excess. Also, under the election, an organization's exemption may only be revoked if its lobbying expenses "normally" exceed 150% of the specified levels. "Normally" is usually based upon the preceding four years for which an election has been in place.
Definitions
In order for the following explanation of safe harbor levels to make sense, some definitions are in order:
total annual lobbying- combination of both direct and grassroots lobbying.
direct lobbying- generally by contact with members (or staff) of federal, state, and local legislative bodies in regards to specific legislation. This communication has to reflect a view on the legislation and can occur through meetings, letters, telephoning, distribution of position papers, etc.
grassroots lobbying- by urging the public to contact legislators regarding specific legislation. Such communication again has to reflect a view on the legislation.
non-lobbying activities- include nonpartisan analysis, study, and research and the publication of such information. Appearance before a legislative body upon a request to testify is not considered lobbying.
total exempt expenditures- generally, all expenditures (including lobbying) of the organization with exception of fund raising and unrelated business income expenses.
Specified Levels under the Election
An organization may expend up to the following amounts on its total annual lobbying:
20% of the first $500,000 in exempt purpose expenditures, plus
15% of the next $500,000, plus
10% of the next $500,000 plus
5% of any remaining expenditures
There is a $1,000,000 cap on total lobbying expenditures (reached when total exempt expenditures exceed $17,000,000).
In addition, grassroots lobbying is limited to 25% of the total lobbying limit.  
Example of 501(h) Election Limitations
The GoodActs Society had total exempt expenditures of $3,000,000 during the year. It determined total lobbying expenditures amounted to $175,000: direct expenses of $110,000 and grassroots expenditures of $65,000. Let's see if it is liable for any tax on excess expenditures: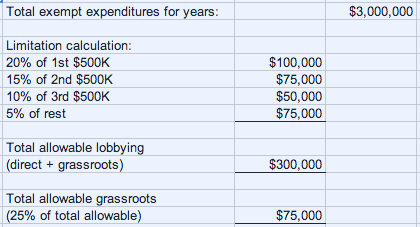 As you can see, GoodActs was well within the limits and could have incurred an additional $125,000 of total lobbying expenditures ($10,000 could be grassroots expenditures) before it would have been liable for excise tax. Even in the event of an unusual year with a big issue and huge lobbying campaign, there would only be a 25% tax liability on the amounts in excess of the limitation levels and probably (see below) no issue of the organization losing its exemption.
Once the election is in place, the only way the organization could lose its exemption (as a consequence of lobbying) would be for either the four-year total for all lobbying expenses or the four-year total for grassroots expenses to exceed 150% of the four-year total allowed amounts.
Making the Election
The election is a very simple (no-fee) tiling which can be done at any time during the taxable year in order to be effective from the beginning of the year. The election remains in effect until the organization revokes it--there is no annual renewal required.
Summary
The 501 (h) election is the only effective way to assure lobbying activity by a public charity will not jeopardize its exempt status. Unless an organization knows in advance its lobbying will exceed the 501(h) safe harbors, we would recommend the 50l(h) election to any public charity contemplating any level of involvement in the lobbying arena. Any non-electing charity (and especially one with expenditures in excess of the 501(h) guidelines) may have to bear the painful burden of proving its lobbying is not substantial in nature.