Nonprofit Accounting Basics
Accounting for Government Grants: Sample Journal Entries
Originally Posted: June 6, 2009
Following are some examples of journal entries for accounting for government grants.
Proper Accounting for Contributions:
Unrestricted award

Temporarily Restricted award
Permanently Restricted award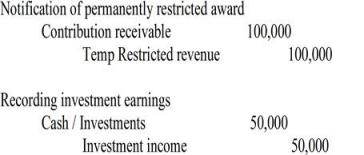 NOTE: The investment income will be recorded into the unrestricted, temporarily restricted or permanently restricted fund based on the donor's guidance. In the absence of specific instructions all investment earnings are to be considered unrestricted.
Cost reimbursable grants
When grant awarded
No entry made since award is conditional upon incurring qualifying expenses

In-kind contributions


NOTE: The expense account charged should be based on the service provided (i.e. pro-bono legal services should be charged to legal expense)
Agency transactions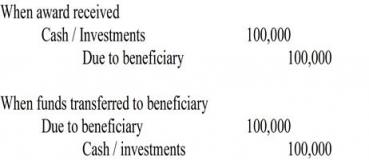 Split interest agreements (assuming charitable gift annuity)


NOTE: The annuity payment liability represents the net present value of the expected future distributions to 3rd parties. The revenue is recorded as the difference between the assets transferred and the liability recorded.

NOTE: The "Change in value of split-interest agreements" is an income account that belongs on the statement of activities.
Conditional contributions
No entry made until conditions are met