Articles & Videos by Topic
Other Resources
Joan M. Renner, CPA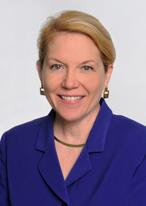 Joan Renner has been providing audit and accounting services to nonprofits for more than thirty years. She is in charge of the firm's services to not-for-profit organizations. Her areas of expertise include services to trade associations, scientific organizations, federal award recipients, schools and other public charities. Mrs. Renner is a graduate of the McIntyre School of Commerce at the University of Virginia, Charlottesville, Virginia, where she earned a Bachelor of Science in Commerce in 1979. Growing up in Alexandria, Joan attended the City of Alexandria Public Schools and is a proud graduate of T.C. Williams High School, Class of '75.
Mrs. Renner is a member of the Virginia Society of CPAs Accounting and Auditing Conference Committee and the Greater Washington Society of CPAs Not-for-Profit Organizations Committee and has been a popular presenter at professional conferences.
Mrs. Renner has served on a number of nonprofit Boards including:
Goodwin House Foundation, Board Member, 2009 to present,
Scholarship Fund of Alexandria, Chair of the Board of Trustees, 2008-09,
Rotary Club of Alexandria, Club Secretary, 2005-06, member since 2004,
Alexandria Chamber of Commerce, Chair, 2004. During this time she represented the interests of Alexandria Business before City Council and promoted the benefits that Alexandria Business brings to our community. Prior to that, she served two years as Treasurer,
Alexandria Symphony Orchestra, Vice President, 2006 and 2007,
Friends of the Torpedo Factory Art Center, President, 1999 and 2000, Joan fostered collaboration between the Friends and the Torpedo Factory Artist Association. Previously, she served as Treasurer.
Mrs. Renner has received a number of community awards including:
Living Legends of Alexandria, 2010; selected along with her husband, John, as one of the Living Legends of Alexandria,
Rotarian of the Year, Rotary Club of Alexandria, 2009; selected with her husband, John, for service to the Club and community,
Board Member of the Year, 2001, Alexandria Chamber of Commerce.