Articles & Videos by Topic
Other Resources
Anna Hofmeister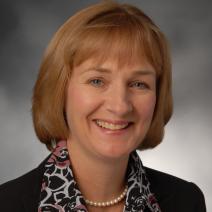 Anna. M. Hofmeister is the partner in charge of the Firm's Outsourced Accounting Services department and has more than 20 years of experience servicing the accounting, consulting, audit, and tax needs of the nonprofit industry. She is responsible for overseeing all phases of our outsourced accounting engagements.
Professional and Industry Experience
In her role as an interim or permanent CFO, Ms. Hofmeister frequently presents to finance committees and boards of directors on topics such as:
Financial results
Key performance indicators
Improving financial performance
Cash flow projections
Budgets and financial projections
Streamlining of business operations
Compliance with Generally Accepted Accounting Principles
Internal control design and documentation
Aligning chart of accounts & financial statements to conform with strategic objectives
Cost allocations
Federal and private grant accounting requirements
U.S. and foreign operations
Unrelated business income
Some of the most notable clients she oversees include the Alexander Graham Bell Association for the Deaf and Hard of Hearing, AmeriDream, American Association of Poison Control Centers, Global Health Council, and National Court Reporters Association.
Speaking Engagements
The Latest Trends in Presenting Financial Information, ASAE 2011 Finance, HR, and Business Operations Conference
Complying with State and Local Authorities, 2009 ASAE Finance and Business Operations Symposium
Supporting Organization: Changes and Challenges, 2009 GWSCPA Not for Profit Organization Symposium
Budgeting, 2007 ASAE Finance and Business Operations Symposium
On-line Banking Options, 2005 ASAE Finance and Management Symposium
Functional Cost Allocations, 2003 ASAE Finance and Management Symposium
Publications and Articles
Author, "Core Competencies of a Finance and Business Operations Professional," ASAE Dollars & Cents
Author, "Mastering Functional Expense Allocations," ASAE Dollars & Cents
Author, "The ASP Alternative", ASAE Dollars & Cents
Author, "Revised Rules for Allocating Fundraising Costs Issued – Are You Ready?," Washington Council on Agencies Agenda
Professional Associations
American Institute of Certified Public Accountants (AICPA)
Greater Washington Society of CPAs (GWSCPA)
ASAE: The Center for Association Leadership (ASAE)
Other Activities
ASAE Consultants Section Council
ASAE Ethics Committee
Immediate Past Chair of ASAE's Finance and Business Operations Section Council
Education, Licenses & Certifications
B.S., Accounting, George Mason University
CPA
By This Author: