Stewardship & Accountability
Note: Articles published before January 1, 2017 may be out of date. We are in the process of updating this content.
Originally Posted: June 8, 2009
As board members and managers of nonprofit organizations, we are constantly reminded that we must be good stewards of the public trust, ensuring the resources of our organizations are well protected and used efficiently to accomplish the missions for which our organizations exist. We are also charged with making certain our management practices ensure the long-term sustainability of the organization.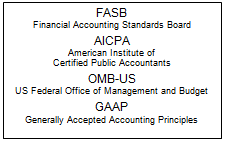 Board members specifically carry this fiduciary responsibility for the organization. They must see to it that managers fulfill all regulatory, legal, and reporting requirements imposed by federal, state, and local governments as well as meeting accounting guidelines and standards specific to the nonprofit industry. Add to that ensuring the organization complies with all restrictions imposed by donors on the use of their contributions.
To accomplish all of this requires the organization to set up a well integrated financial management cycle featuring:
accurate and dependable accounting
effective internal controls procedures
transparent reporting
informed analysis
responsible planning
appropriate responses to its financial data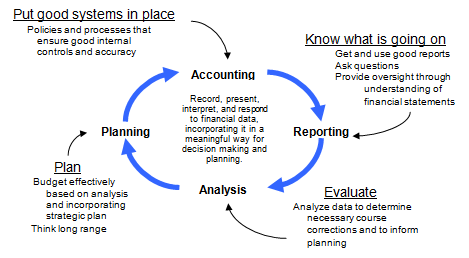 In order to be financially accountable, those responsible for the organization must adopt and follow good financial and risk management policies and engage staff or volunteer board members who have appropriate accounting and analytical skills. They must have access to timely, accurate, and readable financial reports with relevant content and sufficient context for readers to interpret the financial data presented. They must use what they have learned from these reports and from other sources to make good management decisions and plan for the future of the organization.
Even small or all-volunteer organizations should put good systems in place in the beginning--while they are small--to position the organization to grow without having to endure a disruptive overhaul to its financial operations in a growth spurt.
The presence of a fully engaged and effective finance committee is a sure indication that an organization is committed to good stewardship and is actively building and preserving the financial resources necessary to support the accomplishment of its mission, both for the short term and the long term.
Follow links on the left to related Nonprofit Accounting Basics pages.
© 2008 Elizabeth Hamilton Foley